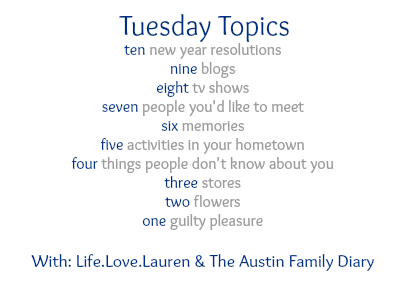 I am pretty excited to be taking part in Tuesday Topics, I saw this prompt floating around and decided to jump on in. Every Tuesday I will blog about these prompts.
Ten New Year Resolutions:
Complete my 31 by 31 Challenge
Complete my Active Mama Series
Accomplish No Spend January (more about this later on the blog)
Do not eat in our living room, bad habit and I don't want to ruin my new couch.
Read a book in January. In 2011 I read over 100 books, in 2012 I read 47. Not good, I love reading and need to get back to it.
Spend less time on my iPad. I have a serious addiction, I might need to set specific times...
Set a budget for Violet's birthday party and stick to it!
Start saving money.
Meal plan, happy to report all of our meals are planned through next Thursday.
Buy a second car.